Many people have heard the phrase "Don't live to work; work to live".  This usually means that the goal of working should be to enable you to live your life, rather than allowing work to consume your life.  Far too many people in the tech industry sacrifice their families, spouses, children, and even their sleep, in order to make it in this industry.
Unless you're one of my regular readers you may not have noticed, but I haven't posted consistently in over a year.  This is because the life / work balance is a very tenuous relationship; in my situation, my family takes 1st priority as a rule.  Since my role as the lead developer for
Salesforce.com's Chatter application for iOS, now just named "Salesforce", blogging about the work I do took a back seat to actually doing and building things.
In this day of telecommuting, remote teams, distributed work environments and the like, as long as the work gets done, there's no point in warming a seat and producing CO² to fill up a dreary office.  Here is my current work environment, where I'm composing this very blog post: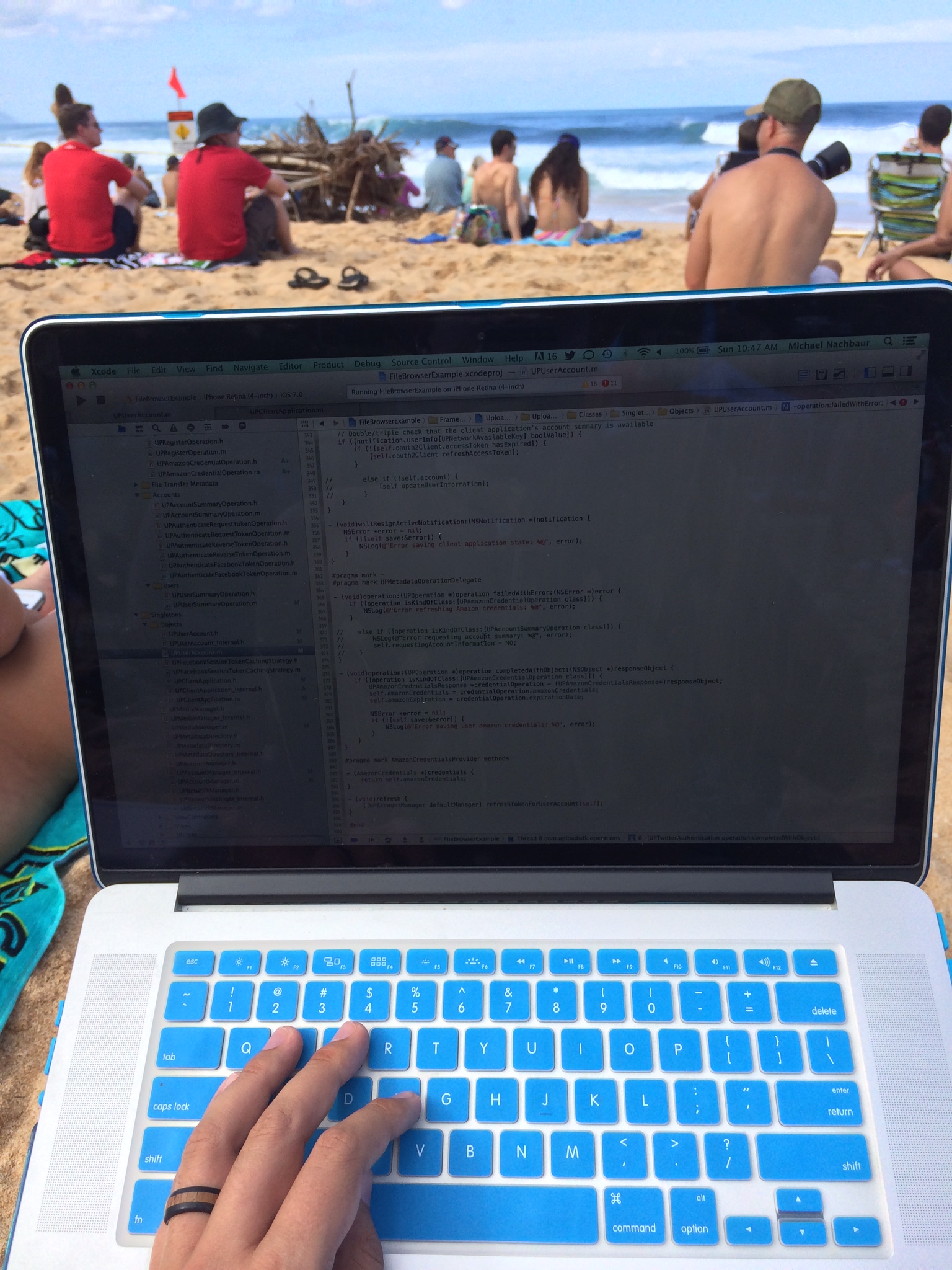 I'm sitting at the beach on the North Shore of Oahu, in Hawaii. In the waves in front of me, at the Banzai Pipeline surf break at Ehukai Beach Park, is the Billabong Pipe Masters competition.  I have jelly plugs in the ports of my laptop, a keyboard cover, and a plastic case around my MacBook Pro Retina, and free wifi here at the beach (though 4G tethering is also quite effective).  Work doesn't have to be a chore, nor does work have to be confined to the walls of an office building.
I've been in Hawaii for over 3 months now, and have been doing my regular 9-5 job with a view of the ocean.  With the 2 or 3 hour time-difference between Pacific Standard Time (Hawaii doesn't adjust its clock for daylight savings time), this means I start the work-day when the roosters crow, and I'm finished my work day shortly after lunchtime, giving me plenty of time to hit the beach, or drive down to Haleiwa town in time for Aloha hour at the bar.
So why am I mentioning all this?  Not only do I think it's freaking awesome, but more to the point, this isn't a difficult thing to do.  If you're single, you can do this.  If you have a spouse who also works from home, you can do this.  And even if you don't like the peace and calm of the Oahu North Shore community, you can do the same thing someplace else near and dear to your heart.
My point of all this is that it's important to focus on what's important to you in life. For me it's my love of my family, my love of the ocean, and my dedication to doing the best damned work of my life.  When I'm happy, migraine-free, and healthy, I do better work.  When I can give 100% focus to my work without the distractions of an office environment, and when I can constantly recharge my creative batteries by hopping into the waves or watching some excellent world-class surfers fight it out in the Van's Triple Crown competition, or just watching the stars at night, I can do better work.
And you can too!